Keratin Hair Treatments: Your Ultimate Guide
Freedom from frizz, once and for all.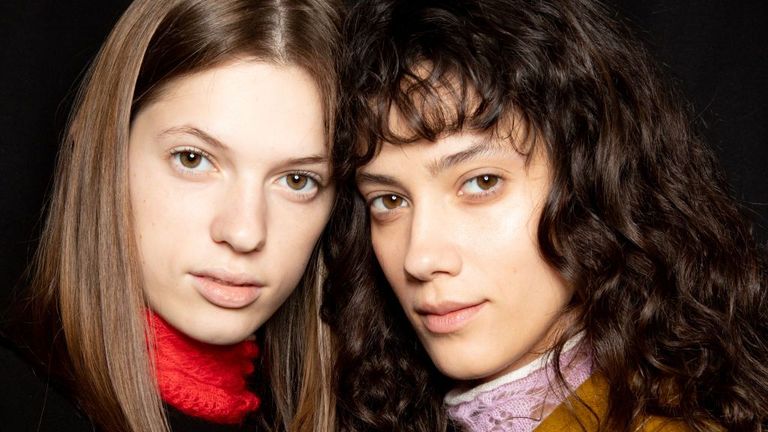 (Image credit: Getty Images/Rosdiana Ciaravolo)
If you've ever experienced even a tiny bit of frizz, you've probably been told to try a keratin treatment of some kind by a friend or two (other names include "Brazilian blowout" and "smoothing treatment.") It's been deemed the "miracle" way to get smoother, shinier hair in just one appointment at your local salon.
But like most chemical-laden beauty treatments, not all keratin treatments are created equal, nor are they for every hair type. Navigating the misinformation on the interweb can be completely overwhelming (trust us, we've been there). So to clear the air before you make the plunge towards sleek glory, I went to the experts to find out five facts you need to know.
1. Know What To Ask For
If the terminology is confusing to you, you're not alone. "People use different names for different treatments interchangeably, which is just incorrect," says Meri Kate O'Connor hairstylist and colorist at Tabb and Sparks salon in Los Angeles. "You either have your traditional keratin treatment, commonly called a Brazilian blowout, which really straightens out your hair texture," she says, "or you have your smoothing treatments, like Goldwell Kerasilk which help de-frizz hair and add shine, without disrupting its texture."
Basically, if you're happy with your waves and curls but would love to cut down on frizz (and loosen your texture), get a smoothing treatment. If you want your hair to look flat-ironed straight, go for the Brazilian blowout.
2. Realize What You're Getting
Yes, all of the hair-smoothing treatments involve the use of the protein keratin (which explains why people lump them all under "keratin treatments"), but keratin isn't really the shining star of the treatments—the other ingredients are.
"A traditional keratin treatment aims to straighten the hair and usually involves a formaldehyde-releasing solution," says O'Connor, noting that your stylist will saturate your hair with the solution for 20 minutes—"it basically coats your hair cuticle like armor"—before it gets blow-dried and methodically flat-ironed. "The entire process, when done correctly, will straighten out your hair texture and completely eliminate frizz for up to three months," she adds.
"Smoothing treatments, on the other hand, are formaldehyde-free and deeply permeate the cortex of your hair, rather than sit on the outside of your cuticle, to smooth your hair," she explains. While the application process is similar, the formula isn't as potent (formaldehyde is necessary for that flat-ironed look), but don't expect it to straighten your hair. "It will, however, last longer—generally anywhere from four to six months," says O'Connor.
3. Understand It Involves Some Questionable Chemicals
Sorry, but safe-enough-to-eat hair-straightening systems simply don't exist here in the real world. If you want to smooth your frizz and straighten your hair texture, you need to accept that your hair will be doused in some chemicals that might not be FDA-approved. If you want to take your texture from coarse and curly to flat-iron straight, you'll need some formaldehyde—which has a pretty bad rap.
"According to the EPA, formaldehyde is a carcinogen that could possibly cause respiratory problems if exposure is frequent," says Brenda Kamt, colorist specialist at 454 North Salon in Los Angeles.
We're sorry to continue with the bad news, but there's a chance the chemical may still be present in a formaldehyde-free straightening treatment too.
"Formaldehyde isn't actually a single ingredient—it's a gas that's emitted from other chemicals being exposed to heat," explains Kamt. "So technically, a product can say it's formaldehyde-free, but still contain the ingredients that create the gas."
Don't let this stress you out too much: "If you're only getting the treatment done three times per year...the risk is very minimal," she says. "Make sure you're having the process done in a well-ventilated salon, or, even more ideally, with windows open or outdoors."
4. Know it Comes With Some Sacrifices
Depending on which treatment you get, there's some major downtime involved. "If you get a traditional keratin smoothing treatment, you can't really touch your hair for three days afterward," says O'Connor. "You can't clip it back, you can't put it in a ponytail, and you can't wash it, or you'll risk denting it."
Now, if your hair is colored, you run the risk of minimal fading or lightening after the treatment, though both experts say it isn't that common.
"Although it depends entirely on the keratin line you're using, you might experience some very slight lightening—like, less than a shade—of glosses, toners, or any demi- or semi-permanent colors," says Kamt. "This is mainly due to the use a clarifying shampoo prior to the keratin process, which is used to remove residue from hair, but may also remove some color."
In the weeks and months after a treatment, make sure to give your hair a little TLC with a hair mask that will nourish and protect your newly smoothed hair.
5. Know That Results May Vary
Because life is like a box of chocolates, there's no way to know the results of a keratin treatment on your hair, regardless of which one you sit hours in the chair for.
"In theory, a traditional keratin treatment should straighten even pretty tight curls, but I've seen women end up with slight waves that they still need to flat-iron," says O'Connor. "I've known women whose curls were totally unaffected by smoothing treatments, while others saw their curls loosen to waves."
It all depends, says Kamt, on the strength of the treatment is, how it's applied, the temperature of the flat-iron, how porous your hair is, and about other factors you really can't control. But don't let that scare you away. "Just do your research, read a ton of reviews, and talk openly with your stylist about what you do and don't want," says O'Connor. "After all, it'll wash out in a few months, anyway."
Chloe Metzger is the deputy beauty director at Cosmopolitan, obsessively writing about new makeup launches, the best hair products (curly girl here; whattup), and the skincare formulas that really work for every skin type (follow her on Instagram to see behind-the-scenes pics of that magazine life). She also has an unhealthy adoration for Tom Hanks and would like to please meet him one day, if you could arrange that. Thanks.