The 12 Best Foot Peels for Your Softest Feet Ever
Weirdly satisfying? Yes. Worth it? Also yes.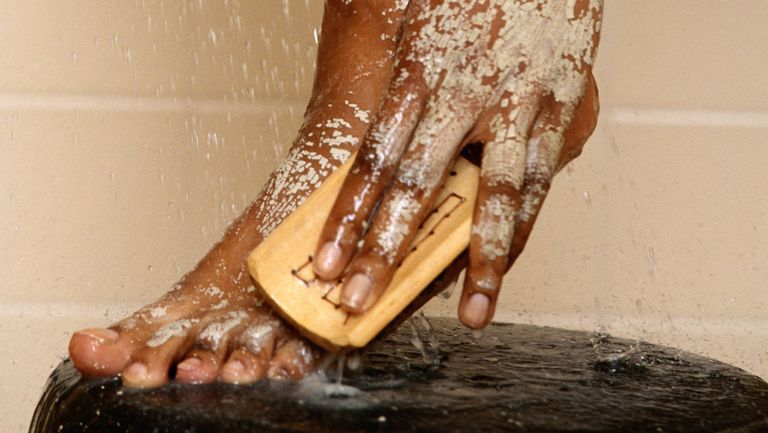 (Image credit: Steve Mason/Getty Images)
Keeping the skin on one's feet and heels soft, supple, and un-ashy requires commitment. "The epidermis is much thicker on the soles of your feet," explains Cheri Frey, a dermatologist based in Maryland. "As a response to the pressure of standing, this skin also sheds less frequently. This, along with friction, can lead to callouses." It's that thickening that makes it difficult for regular foot creams to penetrate and nourish your heels and soles. And that's where foot peels come in. (Drum roll, please.)
Do foot peels actually work?
If you haven't heard of foot peels, seen the results on TikTok, or tried one yourself, allow me: A foot peel is a baggie of exfoliants—usually glycolic, alpha hydroxy or lactic acids—that you slip onto your foot. After allowing it to absorb, you remove, cleanse and...nothing happens. At first.
Five to seven days after using a foot peel, the outer layer of your skin—usually the dead, desiccated stuff that's causing rough and dry patches, starts coming off in satisfying sheets, allowing smoother, softer feet to reveal themselves.
Are foot peels safe?
According to Frey, foot peels are entirely safe, unless your feet have any active wounds and sores. But because of the strength of the acidic blends you're dealing with, it's also important to diligently follow instructions. Don't leave foot peels on longer than indicated, or apply to other areas of your body.
Gloria L. Williams, a celebrity pedicurist, reflexologist and founder of of Footnanny, stresses the importance of moisturizing after applying a foot peel. "You'll want to take care of the new skin you've revealed," she says, adding that hydrators like shea, coconut or olive oils are great options. Depending on the needs of your tootsies, the foot peels ahead should leave your feet quenched, moisturized and ready for anything sandals.
Hannah Morrill is a writer and editor based in Portland, Maine. She's an avid reader, an indifferent face-washer and a sunscreen/retinol evangelist.