'Succession' Season 4: Everything We Know So Far
The Roys will be back for more backstabbing-filled fun.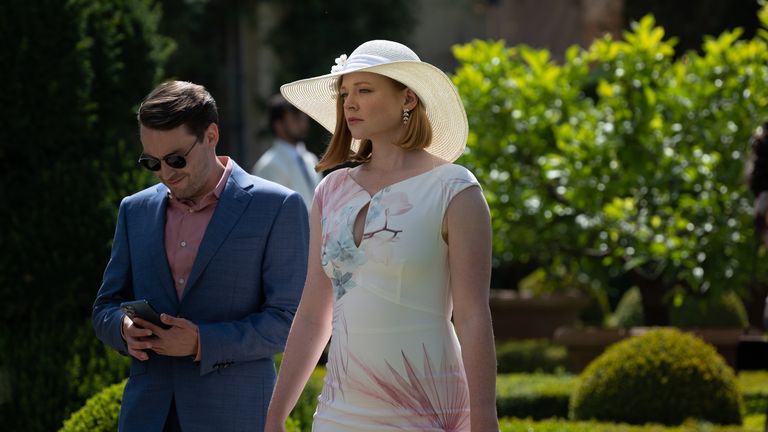 (Image credit: HBO)
Grab the Monopoly board and hide the dick pics (if you know, you know)—the Roys are returning for more backstabs and betrayal. From returning cast to trailers to when we might be able to expect the next season, here's everything we know about Succession season 4.
How did Succession season 3 end?
The season 3 finale of Succession shocked viewers—and even the show's cast—when Tom Wambsgans (and, by extension, Cousin Greg) backstabbed Shiv in an effort to get into Logan's good graces. Tom's decision helped Logan secure enough shares of Waystar Royco to sell the company to GoJo, leaving his three kids—who had finally come together to overthrow their dad—out in the cold.
Per Deadline, the finale was watched by 1.7 million viewers, almost 50 percent more than the season 2 finale.
Will there be a season 4 of Succession?
Yes! HBO announced in late October—just a week into the season 3 premiere—that the hit HBO show had been renewed for a fourth chapter. In a statement, Francesca Orsi, Executive Vice President of HBO Programming, said, "With each season of Succession, Jesse Armstrong has continued to surpass our wildest expectations, pulling us deeper into the Roy family's inner sanctum with indelible wit, humanity, and precision. This season is undoubtedly no exception, and we couldn't be more excited for all that's in store in this next season ahead."
When could season 4 of Succession premiere?
There was a two-year gap between seasons 2 and 3 of Succession, but it's unlikely fans will have to wait that long for more episodes since the lengthy hiatus was due to the pandemic. In a recent interview, star Brian Cox (who tends to be the most filled in about the series) told GQ UK that the show was planning to start shooting again in June 2022, with writers heading back to work in January 2022. "I was surprised because I thought they'd be getting back in November. But I do think they need a break. I mean, I think that they do need space, because they've been working really hard on this [series]," Cox said.
Is there a trailer for Succession season 4?
One can only wish, but there's always Nicholas Braun's Instagram to keep you entertained in the meantime.
What could happen in Succession season 4?
In an interview with Deadline, show creator Jesse Armstrong teased out some plot points for future episodes of the HBO drama, hinting that Tom's decision may come back to bite him in the ass because Logan isn't one to be loyal or trustworthy. (But Armstrong was largely tight-lipped, saying there are plenty of writers' room discussions to be had before anything can be set in stone.)
And in a conversation with Entertainment Weekly, actress Sarah Snook suggested that Shiv has "a lot of soul-searching to do," next season. "My mom's abandoned me. My dad's been revealed to be the devil, and my husband has signed a pact with him. So I've got nowhere to turn. And really, will I run to my brothers?...Where's the safest port?"
Armstrong also spoke to IndieWire about Greg's decision to side with Tom in the finale and how that may factor in his character development: "I think we've seen that Greg is not uninterested in wielding power and gaining capital. It's just that he's had quite small amounts of it in the past."
As Marie Claire's Senior News and Culture Editor, Neha oversees all things entertainment, pop culture, and current events from TV shows and movies we can't stop bingeing to celebrities we can't stop 'shipping. She loves a hot-take, has an extensive knowledge of award shows, and knows the astrological signs of everyone in the royal family and the 'Friends' cast. Before joining Marie Claire, she held positions at Glamour, Brides, Condé Nast, and Mashable, and is a graduate of the Columbia School of Journalism.