'Bridgerton' Season 2: Everything We Know
The viscount and his new love interest will hit your queue at the end of March.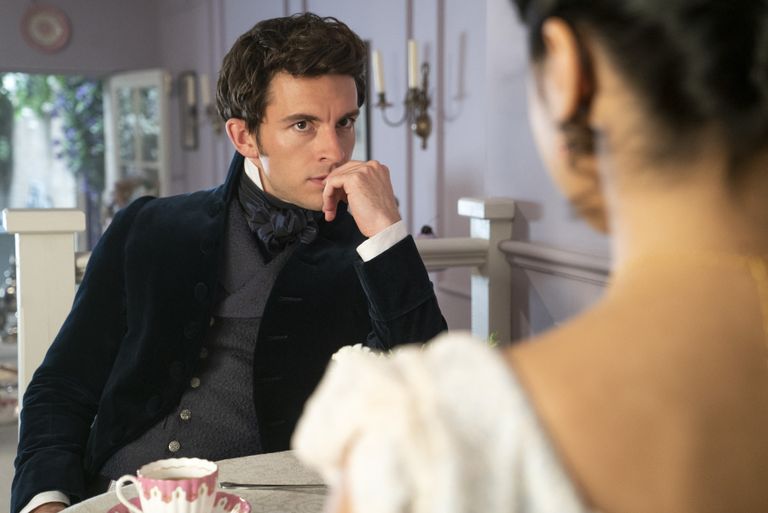 (Image credit: Netflix)
Name a more interesting hook for a TV series than "a very feminist, very steamy take on the strict social mores of early 19th century London, all narrated by an unseen gossip hound voiced by Julie Andrews"—I dare you. That's Bridgerton, Shonda Rhimes' first project under her massive Netflix deal, season one of which dropped Dec. 25, 2020 and basically combined all the best parts of Pride & Prejudice and Gossip Girl. It quickly became Netflix's biggest hit ever, with 82 million households watching the show in its first month. For context, that's not far off the Super Bowl (around 100 million households per year).
Some people—certainly not me, but surely someone with less obsessive tendencies and more varied taste in TV—might think that eight and a half hours of longing glances, illicit affairs, empire-waist dresses, and queenly proclamations would be more than enough to satisfy any lover of period dramas. To those people, I say: I've got a Regency-era-dramedy-induced fever, and the only prescription is more Bridgerton. Fortunately for us all, a second season of the Shondaland masterpiece is coming in March of 2022, with seasons three and four already confirmed and being planned out by the geniuses over at Shondaland—in addition to a Queen Charlotte limited prequel series.
Has Bridgerton been renewed for a second season?
Yes! On January 21, 2021, Netflix announced that it had renewed Bridgerton for a second season. The show was also renewed for seasons 3 and 4, though neither have begun filming yet. (Rhimes has said that she plans for at least eight seasons, telling Variety: "There are eight Bridgerton siblings, and as far as I'm concerned, there are eight Bridgerton seasons. And maybe more.")
In November, the show announced that it had finished filming for the second season, with a note from "Lady Whistledown"—a.k.a. Nicola Coughlan. "I can't wait to share this season of Bridgerton with you, it's been a complete joy. I'm so proud and so excited for you all to see it. See you in 2022/1814. Yours Truly, Lady Whistledown," wrote Coughlan on Twitter.
When will Bridgerton season two come out?
The second season of Bridgerton will drop on March 25, 2022. The second season had started filming in the spring of 2021, but had to pause in mid-July following a COVID-19 outbreak on set. It resumed filming in mid-August, with showrunner Chris Van Dusen confirming that at least the first couple of episodes were in post-production. While fans were hoping for a Christmas 2021 date—a year after the release of season one—Netflix revealed in September 2021 that the second season wouldn't come out until 2022. On Christmas Day 2021, the cast got together to share the official premiere date.
What will Bridgerton season two be about?
Fortunately for the masterminds at Shondaland and viewers at home, there's plenty more intel about the Bridgerton family to be mined from Julia Quinn's series of romance novels on which the show is based. At the core of the book series are eight novels, each focusing on one of the Bridgerton offspring—who, by the way, were very helpfully named in alphabetical order, from A to H.
The first season loosely followed the events of the first book in Quinn's series, The Duke & I, which centers on the eldest Bridgerton daughter Daphne's entrance into society and search for a husband who offers both passion and high status; she does so by way of a scheme involving a fake betrothal that quickly becomes all too real. The second season will take its inspiration from the second book, The Viscount Who Loved Me. That story follows the eldest Bridgerton, Anthony, on his own quest for love. The classic rom-com trope this time around sees Anthony's fiancée's disapproving and very protective older sister reluctantly warming up to the "consummate rake"—perhaps a little too much so.
"We're very much passing on the baton to the lovely [Jonathan Bailey], who plays Anthony, and that will be the main story line of season 2 and the story arc of season 2," said Phoebe Dynevor, who plays Daphne Bridgerton.
Said showrunner Van Dusen in an interview with Variety: "We pick up Anthony after we've seen what he's been through with his mistress. He's thinking, 'Was that love?' Some would call it that, others would not. We're exploring those concepts of duty and honor once again."
Bailey, for his part, told GQ that season two will address Anthony's fear of taking on the "patriarchal position." He added that he gave thought to "what it means to be a rake, and how [Anthony's] anxiety and self-hatred plays into that."
And Netflix has released plenty of first-look photos:
Who will play Anthony Bridgerton's love interest in Bridgerton season 2?
Netflix revealed that Simone Ashley will be joining the Bridgerton cast as Kate Sharma. "Get ready to fall in love with Simone Ashley..." the Netflix announcement reads. "Kate is a smart, headstrong young woman who suffers no fools—Anthony Bridgerton very much included." (Fans of the book series will remember the character as "Kate Sheffield.") Ashley is known best for her part as Olivia in Netflix's Sex Education.
The official description of Julia Quinn's The Viscount Who Loved Me introduces Kate as "the most meddlesome woman to ever grace a London ballroom" and as a "spirited schemer." Speaking to TV Line, executive producer Chris Van Dusen said of Anthony and Kate, "This romance will be just as sweeping and beautiful as viewers have come to expect...They're very passionate!"
Is there a trailer for Bridgerton season 2?
Yes! The first full teaser for season 2 was released, fittingly, on Valentine's Day, captioned with the words, "Love never plays by the rules." In the minute-long clip, the ton receives a dispatch from Lady Whistledown (Julie Andrews), a.k.a. Penelope Featherington (Nicola Coughlan), who cheekily narrates that she's been "honing my skills — no, even better: I've been sharpening my knives." The brief footage also shows glimpse of everything we've grown to love and expect from Bridgerton: Sidelong glances! Sword fights! Balls! Courtship! Drama! Anthony bathing! A shocked Daphne!
Love never plays by the rules. Bridgerton Season 2 premieres March 25 pic.twitter.com/t6mexCFwJoFebruary 14, 2022
See more
Then, on March 9, Netflix released a full-length trailer.
In the trailer, Anthony is heard saying, "It is only out of the greatest love of my family that I am to choose a wife with head and not [heart]," and shown courting two sisters: Edwina and Kate Sharma. Meanwhile, Lady Whistledown asks: ""What happens when duty is in conflict with the heart's true desire?"
Earlier this year, Netflix also released first-look footage, in which a sideburn-less Anthony Bridgerton gets taken down a few notches by Kate Sharma, who overhears the viscount detailing his "many requirements for a wife, loud enough for the entire party to hear."
Kate can clearly hold her own against Anthony, snapping at him: "I find your opinion of yourself entirely too high. Your character is as deficient as your horsemanship." It's unclear how Anthony will manage to woo the new talk of the ton, but one thing is for sure: their chemistry puts even Daphne and Simon to shame.
Will Daphne and Simon's love story continue in season two?
Unfortunately not. Though they got a happy ending at the end of season one, it was confirmed in April 2021 that Regé-Jean Page would not be returning as Simon Bassett.
Phoebe Dynevor will be returning as Daphne, however—at least for one more season. Of Simon, she told The Wrap: "I think he'll definitely be referred to a lot. I think we'll see the baby. And we'll just focus more on her relationship with the Bridgerton family...She's a grown woman now so she can call more shots and be more in control."
Rhimes told Variety: "Rightfully, [Bassett] said, 'I signed up to do this one lovely story, this closed-ended storyline'...And I don't blame him for that. I think that he was really smart to leave the perfection as the perfection."
What new characters are joining the cast for season two?
In addition to Simone Ashley as Kate Sharma, the Hollywood Reporter announced on April 5, 2021 that four new characters have been cast. Charithra Chandran (Alex Rider) will play Edwina Sharma, Kate's younger sister who's a debutante looking for a true love match. Shelley Conn (Liar) will play Kate and Edwina's mother, Lady Mary Sharma. Calam Lynch (Benediction) will play Theo Sharpe, a hardworking printer's assistant, and Rupert Young (Dear Evan Hansen) plays Jack, a new character who isn't from the books who has a connection to one of Bridgerton's most notable families.
Rupert Evans, who you'll remember from Charmed, has been cast as Edmund, the late Bridgerton patriarch and father of the siblings. He'll likely be featured in Anthony's flashbacks, since Edmund's death had a profound effect on Anthony. The first season ended with a shot of a bee, which is a callback to how Edmund died (an allergic reaction to a bee sting) and an indication that Edmund will feature heavily in the Anthony-centric season two.
Also, there's a corgi called Newton who will play a large role, if the books are any indication. Here he is:
What else do we know?
Speaking to TV Line, Van Dusen teased a couple more details about the second season: "Lady Whistledown always manages to get the good gossip and viewers get to see exactly…how the sausage gets made," he said. He added of Penelope: "She's caught between two worlds...It's fascinating to see her navigate that." Van Dusen noted that Eloise will be forced to become romantically available: "She's never been one who enjoys being told what to do."
And could Lord Featherington return? Actor Ben Miller, who played the late lord, teased in an interview with the Radio Times that his character might return to the show: "It's possible, yeah...So yeah, everything's possible. I hope they don't wait for 10 seasons of Bridgerton to get to this!"
Andrea Park is a Chicago-based writer and reporter with a near-encyclopedic knowledge of the extended Kardashian-Jenner kingdom, early 2000s rom-coms and celebrity book club selections. She graduated from the Columbia School of Journalism in 2017 and has also written for W, Brides, Glamour, Women's Health, People and more.