Queen Letizia Wore a Vyshyvanka in Support of Ukraine
Spain's queen made a humanitarian statement with her outfit.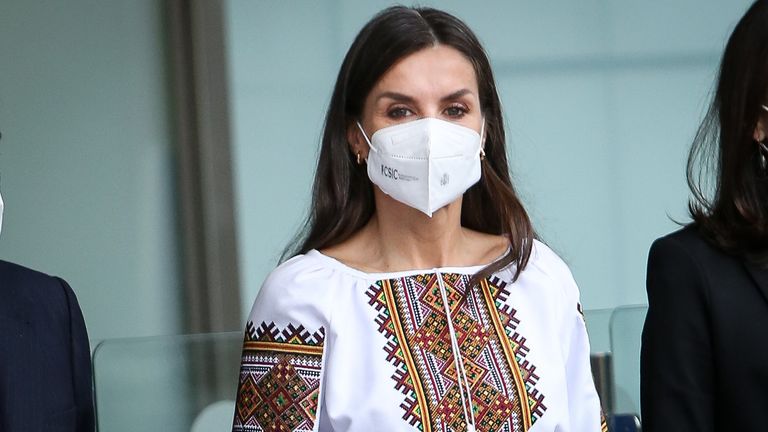 (Image credit: Future)
On Wednesday, Queen Letizia of Spain showed her support for the people of Ukraine by wearing a vyshyvanka, a traditional embroidered blouse worn by the people of Ukraine and Belarus. While royals are generally encouraged to remain politically neutral, this symbolic outfit was imbued with meaning and demonstrates fashion's ability to send a message.
If you want to make a statement of your own, you can do so by supporting Ukrainian-owned brands or shopping from brands that are donating profits to the Ukrainian people (like DRESSX's "Support Ukraine" Collection).
The vyshyvanka is a versatile, Bohemian piece with a rich history. Much like the evil eye, the vyshyvanka's pattern is considered a talisman against bad luck, and can be worn by people of any age or gender. According to spiritual tradition, every stitch on this piece is imbued with spiritual meaning.
While the style is gorgeous and would be a welcome addition to anyone's wardrobe, it's critical to avoid cultural appropriation by both educating oneself about the piece's origins, and by shopping from Ukrainian (or Belarussian) owned brands. You may already be familiar with popular Ukrainian brands like Ienki Ienki, Anna October, Bevza, and Zhilyova, but read on to learn about more inimitable Ukrainian-owned pieces.
Gabrielle Ulubay is an E-Commerce Writer at Marie Claire and writes about all things fashion and beauty. She's also written about politics, gender, and sex for publications like Bustle, HuffPost Personal, and The New York Times. As a film school graduate, she loves all things media and can be found making art when she's not busy writing.